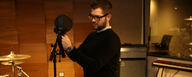 Atlantic Studios NYC
Official LEWITT Endorser
We're proud to announce that Atlantic Studios NYC is now an official LEWITT endorser!
Atlantic Records has been a home of choice to legendary artists such as Aretha Franklin, Ray Charles, Led Zeppelin, Otis Redding, The Rolling Stones, Genesis, Cher, Cream, Rush, Stevie Nicks, Phil Collins, and countless others.
And the label's legendary former studios in NYC once served to showcase Atlantic's commitment to artist development and innovation. Back then, with industry icons Tom Dowd and Jerry Wexler at the helm, Atlantic Studios played host to the production of numerous hit recordings and pioneered the science of stereo and multi-track recording, forever changing the way we experience music. And today, that same tradition of artist development and recording excellence lives on at the new Atlantic Studios NYC.
Recording engineers at Atlantic Studios are now using the LCT 840 multi-pattern tube microphone, the DTP 640 REX dual element kick drum mic, and the LCT 550, one of the quietest mics in the world.
When we asked Atlantic Studios' Studio Director & Producer Ron Robinson how the musicians and engineers like the new mics, he told us that the honest tube sound of the LCT 840 attracts the most attention of all: "Everyone's been really pleased by the LCT 840's warmth and detail. We've been using it mostly on vocals, as a room mic, or to mic guitars. And we used it on strings for the King 810 session!
We've most recently had the LCT 840 out for the following sessions: Straight No Chaser, Against the Current, Jake Troth, King 810, Arizona, Kaleo, Kidnap Kid, producer/songwriter Corey Gibson (Akon), and producer/artist Absofacto."
We're really happy about the great feedback and looking forward to hearing more about the LEWITT mics at Atlantic Records Studio NYC in the future!
---
Related products
DTP 640 REX
Dynamic and condenser capsule in one housing
Separate outputs for both capsules
For kick drum and other bass-heavy sources
Three switchable sound characteristics
Cardioid polar pattern
LCT 840
Full-bodied tube sound with smooth high-end
Classic tube sound with modern technology
12AX7 tube
Remote control and power supply in one
Multi-pattern design
 
---
More stories