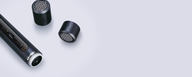 Review LCT 340
RecordingHacks
In this review Dren McDonald of RecordingHacks compares a LEWITT LCT 340 with a Oktava MK-012 and a beyerdynamic MC930.
Summary: "Unlike the Oktava, the LEWITT LCT 340 has some flexibility built in with backlit switches for a 4 way attenuation pad, and 4 way hi-pass filter. Not to mention, this is one of the beefiest, most tanklike SDC mics I've ever picked up! Listening to the LEWITT I noticed a few differences from the Oktava: the LCT 340 had an increased clarity and detail in the high end and a pleasant bump in 150k–200k range. Where the MK 012 tends to start blurring that high frequency detail a bit, the LEWITT brings it into focus a little more.
While I was setting up the LEWITT I found myself getting lost in playing the acoustic guitar, experimenting with the mic, its placement, and the guitar dynamics. In fact, my left brain had to sort of step in, take over and get back to business because I found myself getting carried away with ideas. I think whenever a piece of gear starts inspiring your creativity and gives a little spark, it is always a good thing. [...] I found the 930 to be very similar to the LEWITT, although while it may have revealed even a bit detail and felt cleaner, I wasn't as happy with the 930 (especially when strumming) as I was with the LEWITT.
So when it came time to do some hand percussion tracks I felt like the LEWITT and beyerdynamic were extremely close in terms of what they offered. I don't record drum kit in my studio, but I would imagine both the LEWITT and 930 would be great choices for overheads.
I also tried out a little ukulele and really liked the results from both mics. The LEWITT may have been slightly mellower and buttery (can I say that about a mic?) but I thought they both captured something that I'd be happy to throw in a mix."
Links
---
Related products
LCT 340
Extremely precise sound reproduction
For sophisticated instrument recordings
Low-cut and pre-attenuation
Interchangeable capsules, cardioid or omni (optional)
---
More stories