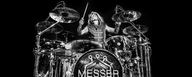 MESSER on Tour with LEWITT
Drummer Kenn Youngar on his experiences with the DTP Beat Kit Pro 7
MESSER. It's a band whose personality is perfectly encapsulated by their motto: "rock that meets individuality with a side of kick your ass!" Hailing from Dallas, Texas, MESSER began taking shape back in 2009. Their lineup consists of a combination of musical veterans like lead guitarist Javier Contreras, who used to play for the Jägermeister-sponsored band Mudflap. Kenn Youngar, MESSER's drummer, had previously spent seven years with his band Strangleweed. MESSER's bassist Maddox had formed a band called Forever Sunday in 2004. MESSER's rhythm guitarist is Donnie Deville. And finally, topping off this collection of talents, veteran frontman Dereak Messer joint the band. MESSER just released its self-titled album in April of this year, and we recently got together with drummer Kenn Youngar to talk about the band's experiences with LEWITT.
[LEWITT] What aspect of LEWITT microphones convinced you to give them a try?
[Kenn Youngar] First off, aesthetically speaking, they look amazing. And when you pick them up, you can already feel the quality in their weight … and you just know that a lot of thought went into these mics. Like when I use the LCT 340 live on overheads: I can actually see when it's not getting any power, and there've been a couple of occasions when that's come in handy. I always check that before my show starts.
[LEWITT] Tell us about your experiences with LEWITT microphones…
[Kenn Youngar] Even the case they come in is incredible – when the mics arrived, it was like Christmas. I first ordered the DTP Beat Kit Pro 7; then I ordered a second backup set and some more mics later on.
[LEWITT] What's your favorite mic?
[Kenn Youngar] It's definitely the DTP 640 REX. Since we put it into the kick drum, it's never moved back out. I'm using it on a completely free-floating isolation mount system – the Kelly Shu system. The mic in there is midway through to the kick, centered where the beaters go. It sounds huge. I really like the dual element concept of the mic, with the dynamic and condenser capsules. Back in the day, I was using two Sennheisers: I had two different mics, two different isolation mount systems, two different cables – but with the DTP 640 REX, it's all in one. It's just an amazing mic. I love it so much that we even installed one on my 18-inch DW floor tom. I'm using two LCT 340's for overheads, and I also have another pair that is split up between my hats and ride. Then I'm using two MTP 440 DM's on the snare drum – one on the top with a crash guard, which blocks a lot of the cymbal bleed, and one on the bottom snare. And as far as the 14-inch top tom goes, we're using the DTP 340 TT's.
The MTP 440 DM's are so sensitive, we did have to install a crash guard – that's a plastic and foam protector piece that slides over the microphone – and that prevents any of my top-end brass from bleeding into the snare and gives it a lot more isolation. Because that snare mic is so sensitive and so awesome that we were getting a lot of overtones from my metals – because I'm a heavy hitter, as it is, and they're very close to the snare.
[LEWITT] The band has grown tremendously since you first started with LEWITT three years ago. What did you guys do to start touring nationally and get your videos and music played on so many radio and TV stations?
[Kenn Youngar] It literally takes a village. I wish I could say that we have record labels and all that behind us, but when you really need something, you've got to do it yourself. We created our own record label. We saved up as much money as we could to produce the best album that we could, which took around four years. Our single just got released in January of this year, and as of last week, we've broken into the top 30 on Billboard. Hopefully we'll be climbing a little bit closer to the top 20. Erik Baker from Concrete Marketing and Ed Bunker from No Problem Marketing have done a tremendous job to get us out there.
[LEWITT] What advice would you give to other bands, from a business standpoint?
[Kenny Younga] Keep track of everything – right now we're having to go through some trademark issues, and since the band is already nine years old this July, you have to go all the way back and dig up all kind of artefacts like when the logo first appeared, from when the artwork was on the first CD, when the first T-shirts was printed, and this all has to be documented to prove when it first came out. So if you're thinking you're going to end up at a label and it's going to do everything for you – believe me, it won't. So just try to do as much as you can. I'm in charge of the band's social media stuff. Javier, our guitarist, does a lot of the graphics and is also an amazing photographer. And Maddox handles our website stuff. So we do a lot in-house and keep it in the band.
Listen to MESSER's Make This Life
Links
---
Related products
---
More stories